With improved veterinary care and dietary management, our pets are now living longer than they ever have. However, this also brings with it a whole new range of age-related conditions, which can often go unnoticed until it is too late.
Extensive research in recent years has led to a better understanding of how veterinarians and owners can best handle the special needs of the senior pet.
So what is a "senior"pet?
Unfortunately, due to the wide variety of breed characteristics of our pets, there is no one definition for what constitutes a senior pet. In the majority of cases this will be around 8 years old, however, in large and giant breed dogs it may be significantly younger than this, so it is always wise to ask your veterinarian what age would be considered "senior" for your pet.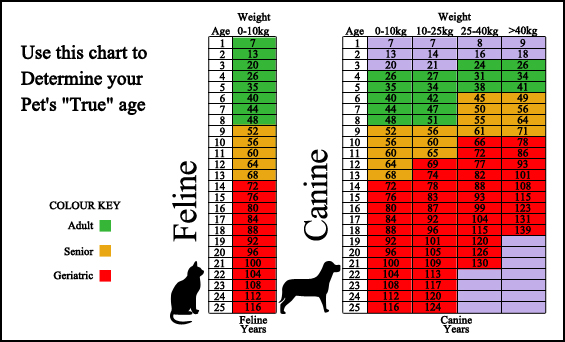 Why are "Senior Wellness Checks" important?
There are many conditions which are more prevalent in the older animal. These include (but are not limited to) :
– Dental disease                                                     – Hormonal imbalances
– Arthritis                                                                – Increased blood pressure
– Obesity                                                                  – Cancer
– Heart disease                                                       – Urinary Incontinence
– Kidney disease                                                     – Cognitive dysfunction
– Liver disease
This is accomplished through regular, specially tailored "Senior Wellness Checks"
What constitutes a "Senior Wellness Check"?
Our Senior Care packages are individually tailored to the individual pet, taking into account the breed, age and any pre-existing conditions.
The program is centered around a complete physical examination and history of the pet with a fully qualified and registered Veterinary Surgeon or Veterinary Nurse, and may also include blood and urine tests. Repeated checks are then advised dependant on the findings, and are recommende at lesat once every 6-12 months, and increase as your pet ages.
What is the point of the blood test?
The senior wellness blood test focuses on checking for kidney and liver disease, as well as diabetes. As the pet ages, montitoring the thyroid function may also be advisable. These tests allow early detection of organ dysfunction, and allows for the approprate advice to be provided, to treat and manage these diseases. It has been shown that 30-40% of seemingly healthy cats and dogs over the age of 8 years have abnormalities present in these parameters.
How do I get my senior pet checked?
Just call our Manama clinic on 17245515 and ask one of our receptionists to book your pet in for a Senior Wellness Check, or for more details